Explore 3 Incredible Experiences in The Caribbean And Why Excellence Resorts Became Their Home Away From Home
Step into the stories of three couples in Excellence Resorts and read through each of their unique excellence experiences in the Caribbean.
As part of #MyExcellenceExperience, Excellence Resorts launched a giveaway where we received hundreds of beautiful stories from our dear visitors throughout the years. Through their experiences, we learned how unique these memories are and what made them have us close to their hearts.
Come and discover the captivating and beautiful stories that won and get ready to read about love, special surprises, personal touches, and Extraordinary Moments.
Kelly's experience in Excellence Playa Mujeres
Returning to her favorite resorts
Kelly is a long-time lover of Excellence Resorts. Having visited this brand quite a number of times, she truly has made this adults-only haven her home away from home. Not only was she able to indulge in the luxurious surroundings but her stay was made especially noteworthy because of the wonderful connections she made with the staff.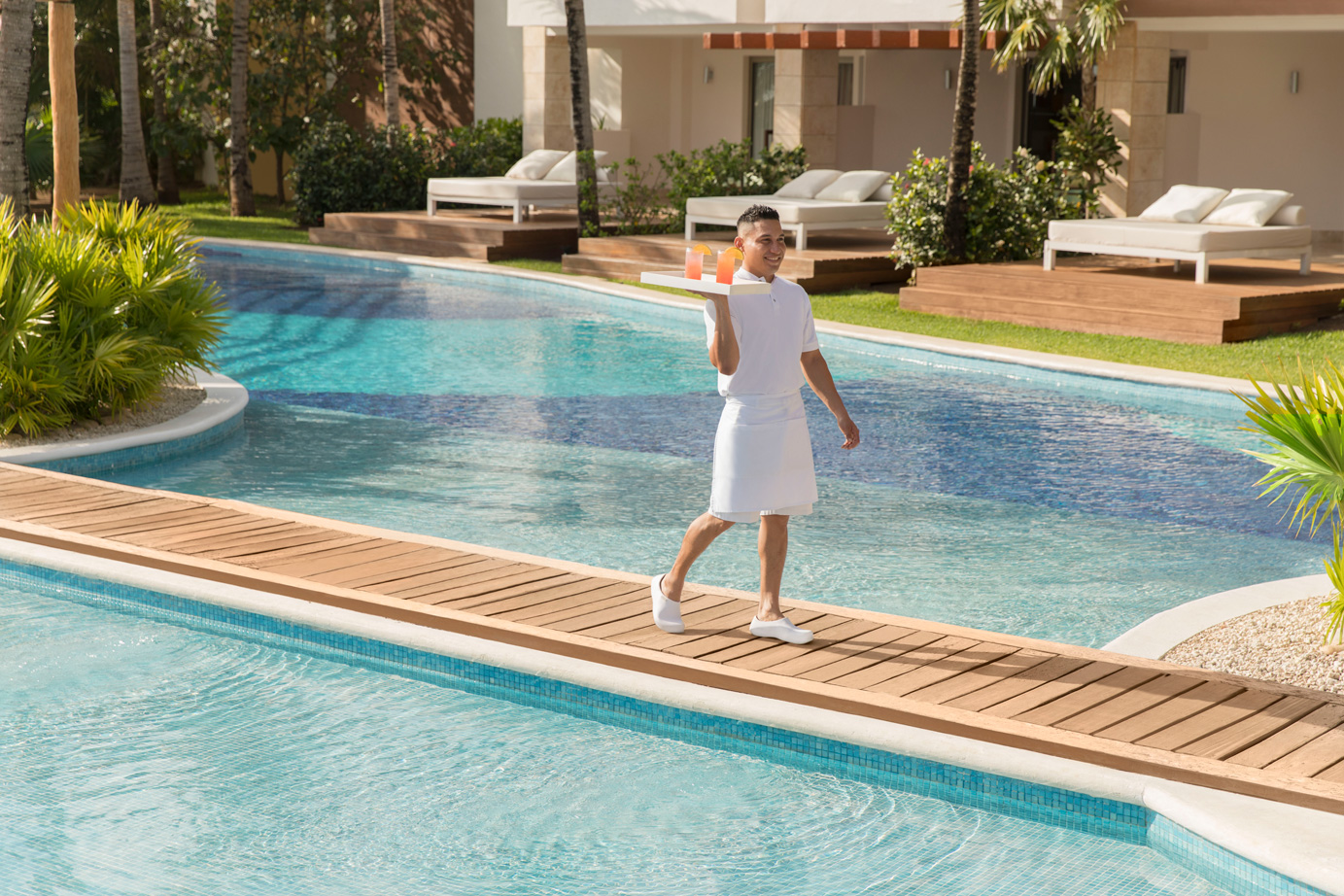 In her words: "We have known them for many years and it is so great to see their progression throughout the company."
As a result of the Bespoke Service provided by our dear staff, Kelly has vacationed with many members of her family in Excellence Resorts and since her very first visit, she knew once and for all time that she had found herself the perfect All Inclusive spot for her ultimate relaxation.
"In all of our […] trips, we have never had a bad experience. When you find your right fit, you know the is no reason to go anyplace else!"
The details leading up to an Extraordinary Moment
Kelly's most memorable experience happened while she and her parents stayed in Excellence Playa Mujeres. She had planned something special for them and they had no idea what was about to happen.
The staff worked closely with Kelly to make this surprise a reality. She approached the Excellence Club team to print off and deliver a letter that was made to look like it had come from the resort. It stated that her mother needed to be at the Miilé Spa for an appointment. Kelly's father dropped her off, and she got welcomed with a special session to do her hair and makeup in the salon.
Once Kelly's father returned to their suite, he also received a letter advising him to wear his white night attire and to be ready in his suite by 4:30 pm. The plan was starting to come together.
After the spa session, Kelly took her mother to a different suite and surprised her with two beautiful dresses to choose from. Considering that this was done without her knowledge, there was some concern about whether everything would fit properly, however, to their amazement both dresses fit perfectly!
Celebrating her parents' love
After having her mother pick out her favorite dress, Kelly had "Javier", one of her favorite staff members, escort her mother to the stone gazebo. Still clueless about what was happening, Javier guided her mother in her lovely new attire and walked her down the aisle.
Thinking that she was just having a romantic dinner, Kelly's mother kept walking towards the gazebo. Little did she know that something much better awaited her.
A few minutes earlier, Kelly's sister in law had already taken her dad down to the gazebo and once they put the boutonnière on him he knew what was coming.
As Kelly's mother arrived at the venue, the wedding coordinator gave her a bouquet of beautiful flowers whilst their wedding song started playing in the background. Then Kelly told her: "Your groom is waiting for you". Everyone gave way to tears, even her dad.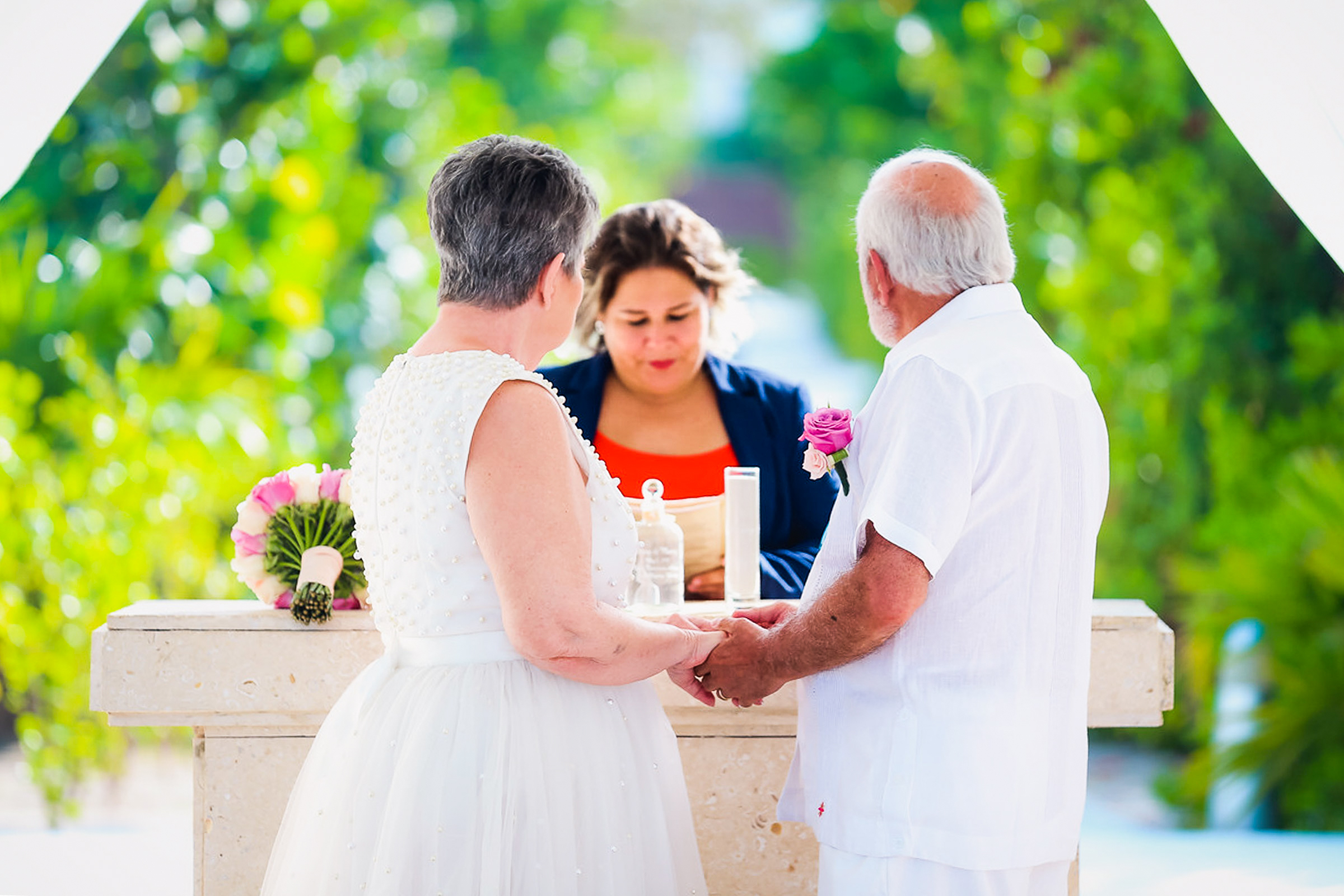 Amidst the emotions and waterworks, they exchanged their vows and enjoyed a lovely ceremony together. Kelly had successfully orchestrated a surprise vow renewal for her parents!
After giving them an engraved gift and enjoying some cake and champagne, Kelly could finally say "Mission accomplished!"

Pamela's experience in Excellence El Carmen
A place like no other
The second that Pamela walked through the doors at Excellence El Carmen, she was greeted with smiling faces who were ready to pamper her throughout her stay. The staff quickly learned her and her boyfriend's names and after a couple of days, they felt a connection with those around them.
Pamela said, "The property is one of the most beautiful resorts I have been to, but it was not the amazing rooms or the delicious food that made this place our home away from home, it was the people […] every single individual at Excellence El Carmen made us feel like family."

A sudden change in plans
In the months approaching Pamela's 21st birthday, her family had been planning a big celebration in Las Vegas. However, her beloved father "Greg" had passed away unexpectedly just a few months prior and she did not feel like continuing with the original plans without him.
Instead of her planned trip to Vegas with the family, she chose to take a relaxing vacation with great cuisine and an amazing beach. With that specific criteria, she quickly came across Excellence El Carmen but she would soon find out during her stay that this vacation was going to be a lot more meaningful than she could have ever expected.
A great start to an unforgettable vacation
Upon her arrival, she was able to enjoy a way more luxurious suite than what she had originally booked. Before long, she was relaxing in her swimsuit and drinking champagne in her rooftop plunge pool overlooking the Caribbean ocean.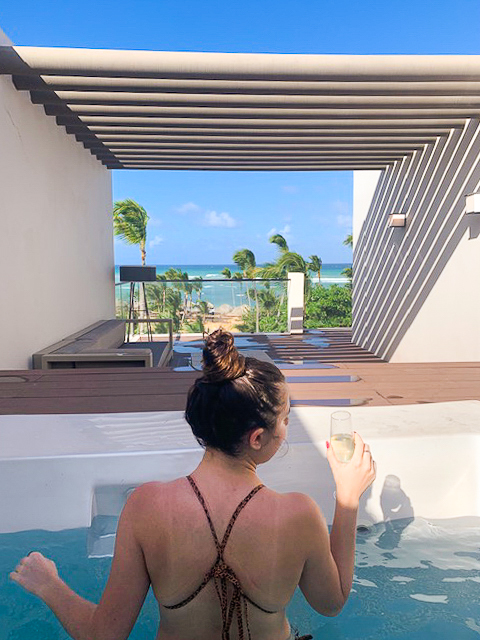 Over the days that followed she fell into a comfortable routine where, as she stated "we basically got to relive the best day of our lives over and over".
She would wake up in the morning and order some room service, then a short walk to Aroma and a nice chill by the pool, do some reading and drink some exotic cocktails. After a scrumptious lunch and a brief nap, it was then time to get ready for dinner.
"We got to try every restaurant and each one was better than the next, though we settled on an agreement that Flavor Market was our definite favorite followed closely by Magna"
Tapas, tender care, and a one of a kind coincidence
Pamela's highlight from her days of excellence were the little things that showcased the immense attention to detail taken throughout the resort and by each and every staff member.
An example of this was during the evening of her birthday.
When she and her boyfriend were at the Flavor Market enjoying some tapas, the waiter was especially caring and attentive and soon she came to realize that his name was "Greg." A name that was obviously near to her heart as it was also the name of her late father.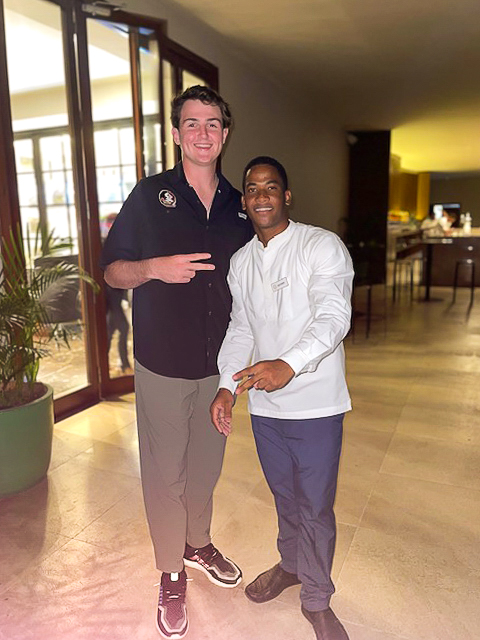 With such a moving coincidence, things got quite emotional and she began to explain to Greg the events that had brought her there. After listening intently, he immediately advised them they would be getting the chef's special options at which he proceeded to bring out an array of amazing tapas.
Greg then brought every waiter over and got the whole restaurant to sing to her and turned what was to be a difficult day without her father into an incredible memory to hold on to.
With attention to detail and thoughtful touches throughout her stay, the dedicated teams at Excellence El Carmen were able to exceed Pamela's expectations and give her the special getaway that she deserved. Greg and the rest of the staff remain ready to welcome her and her boyfriend back for more Extraordinary Moments in the Caribbean.
Sarah's experience in Excellence Oyster Bay
A homely haven for their love
"Welcome home" she heard as she entered the resort. From the moment she arrived, Sarah instantly felt pampered. She explains that among the wonderful surroundings, the real reason why the resort feels so welcoming is that each staff member treats you like they have known you forever.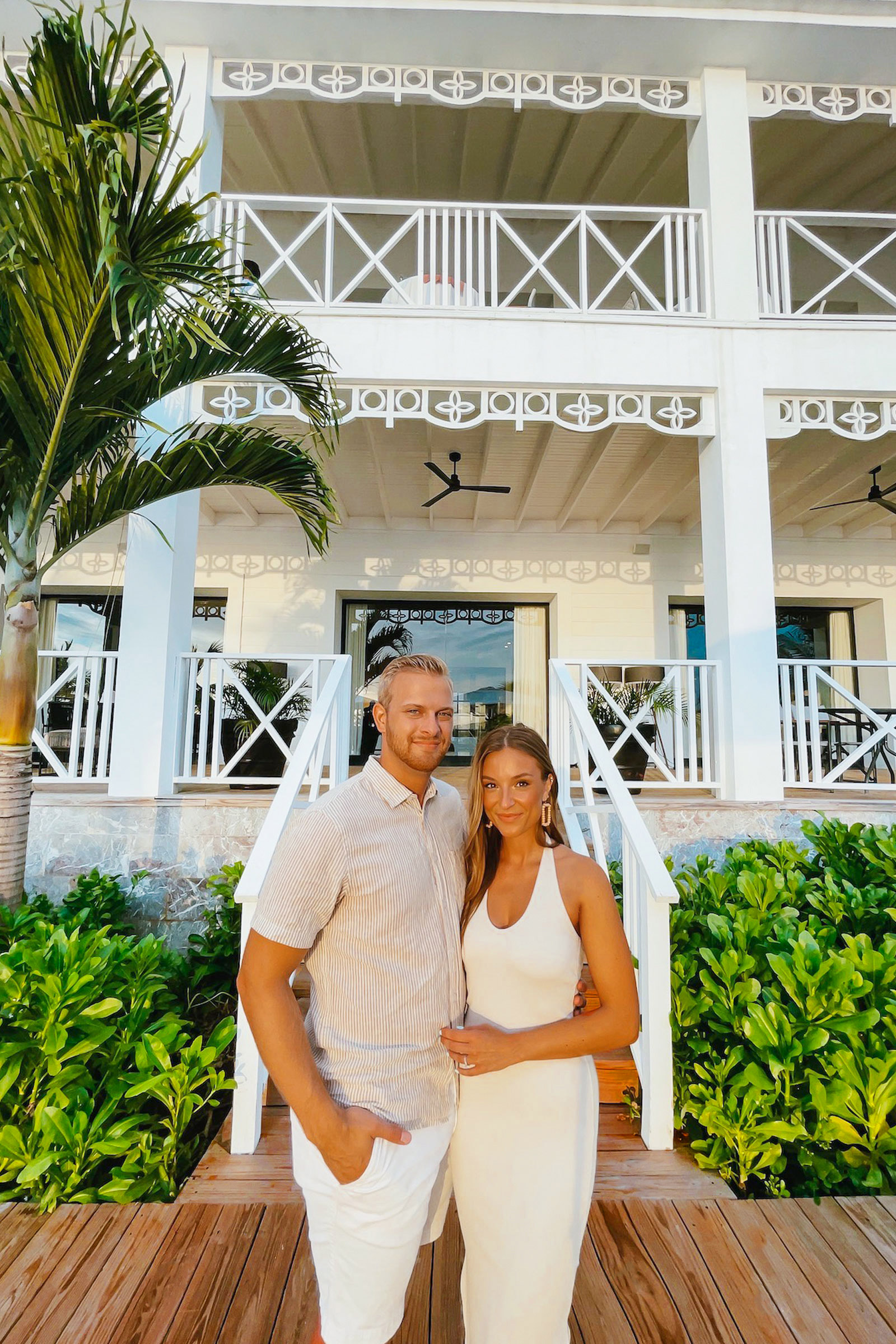 "Usually, I'm someone who gets homesick on long trips away, someone who misses their own bed and their routine. I can confidently say that's never happened with our stays at […] Excellence Oyster Bay because the environment created is already home."
Within a day, the staff tailored every single detail of her stay even exchanging nicknames like they were old friends and constantly asking if there was anything they could do to make her day better.
"It's indescribable, and I don't understand how they pursue meaningful relationships and interactions with us, let alone each guest".
An excellent day by the beach
Sarah and her husband were celebrating their anniversary. After welcoming the day from the comfort of their Beach House suite, they headed down to the sunny beach to settle under their favorite palapa to enjoy, what she described as "surreal."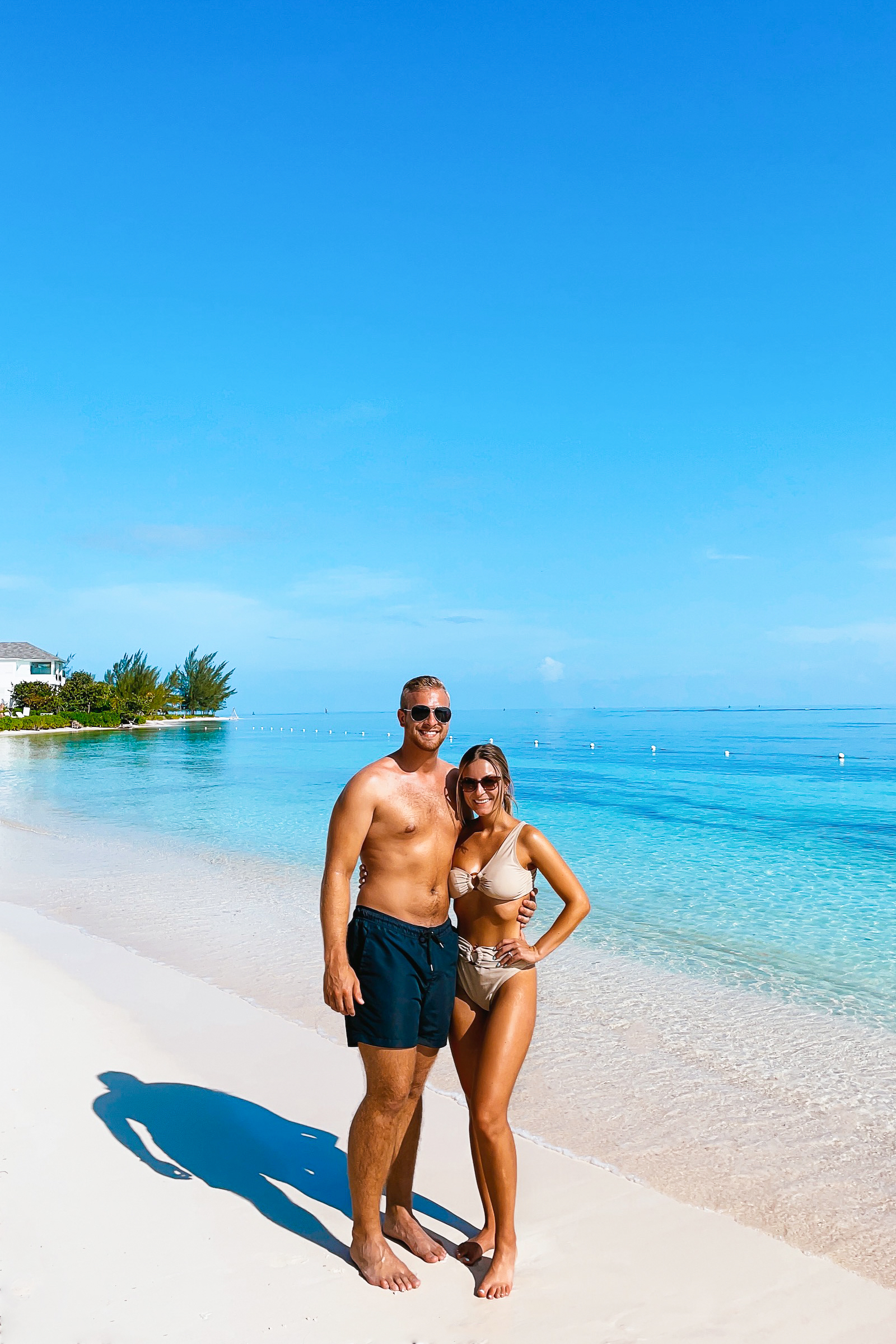 Hand in hand, they strolled down the private peninsula, backdropped by the skyline that blended with the turquoise waters. A simple walk quickly turned into a remarkable shell hunt, wading in the warm ocean and admiring the whites, pinks, and purples of the Caribbean treasures.
"Hours felt like minutes out there; like the ocean was all ours.", she added.
As the day move forward, the sweet Jamaican sun started to fall and they enjoyed an evening where they danced, sang, and followed the lively entertainment. "We wish it could've lasted forever!"

The thoughtful anniversary surprise
Later that same evening, Sarah and her husband headed to Spice restaurant to treat themselves to some Asian culinary traditions.
"Our waitress, Erica, made us feel like we had been friends forever. In fact, we are still wondering how she made the experience so personal for us!".
As they enjoyed a romantic meal, their waitress took care of their every need including a very personal surprise. Their waitress went above and beyond to gift them a handwritten card full of good wishes for their anniversary and marriage.
As unexpected as this turned out to be, this personal touch made for the perfect conclusion to a wonderful anniversary day that they will never forget.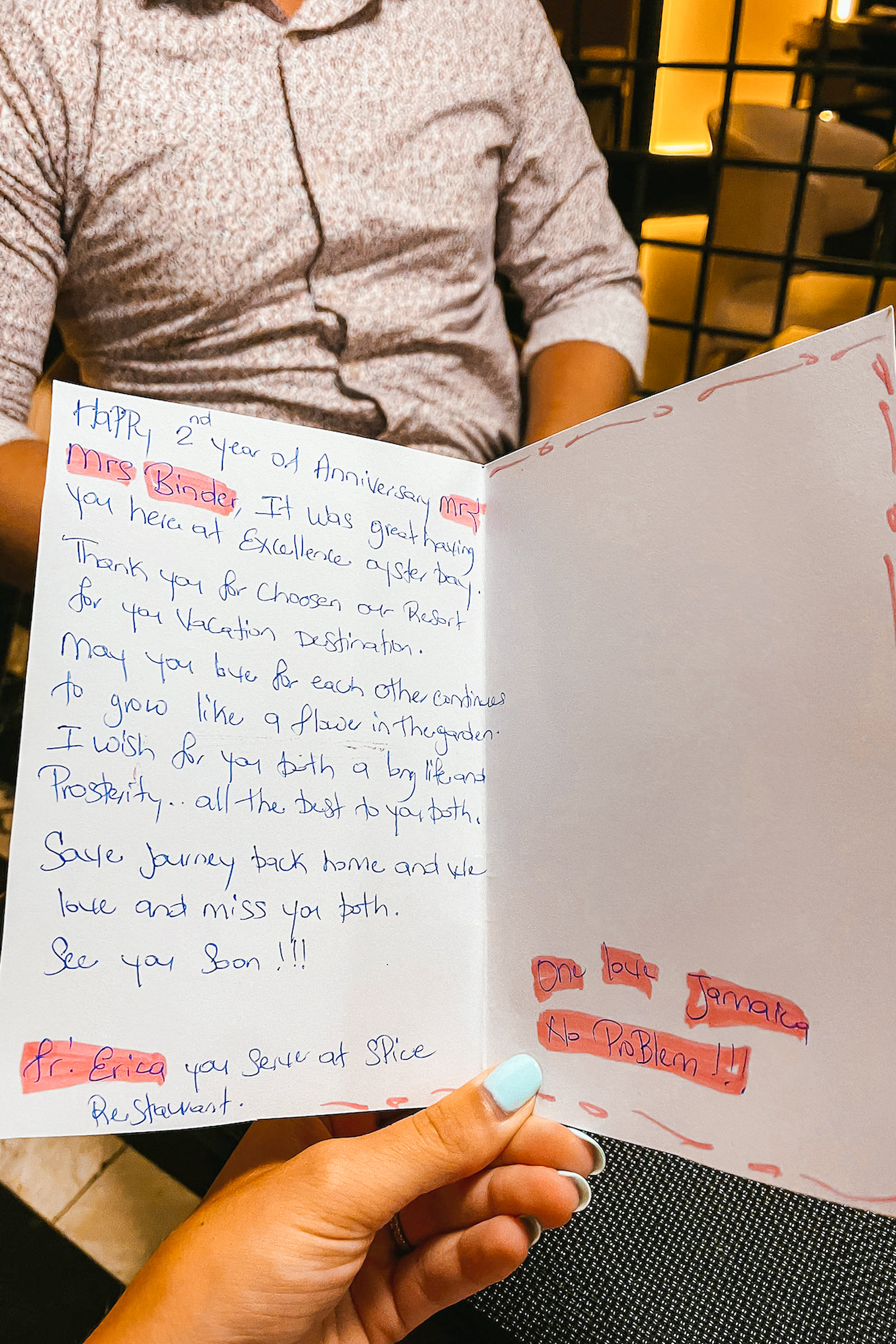 Sarah concludes by saying: "This day will live as one of our favorite days in our marriage because of the magic of Excellence Oyster Bay. Thank you from the bottom of our hearts for giving us this home away from home!"
---
Tags: Excellence Resorts news and updates
Other Articles you may like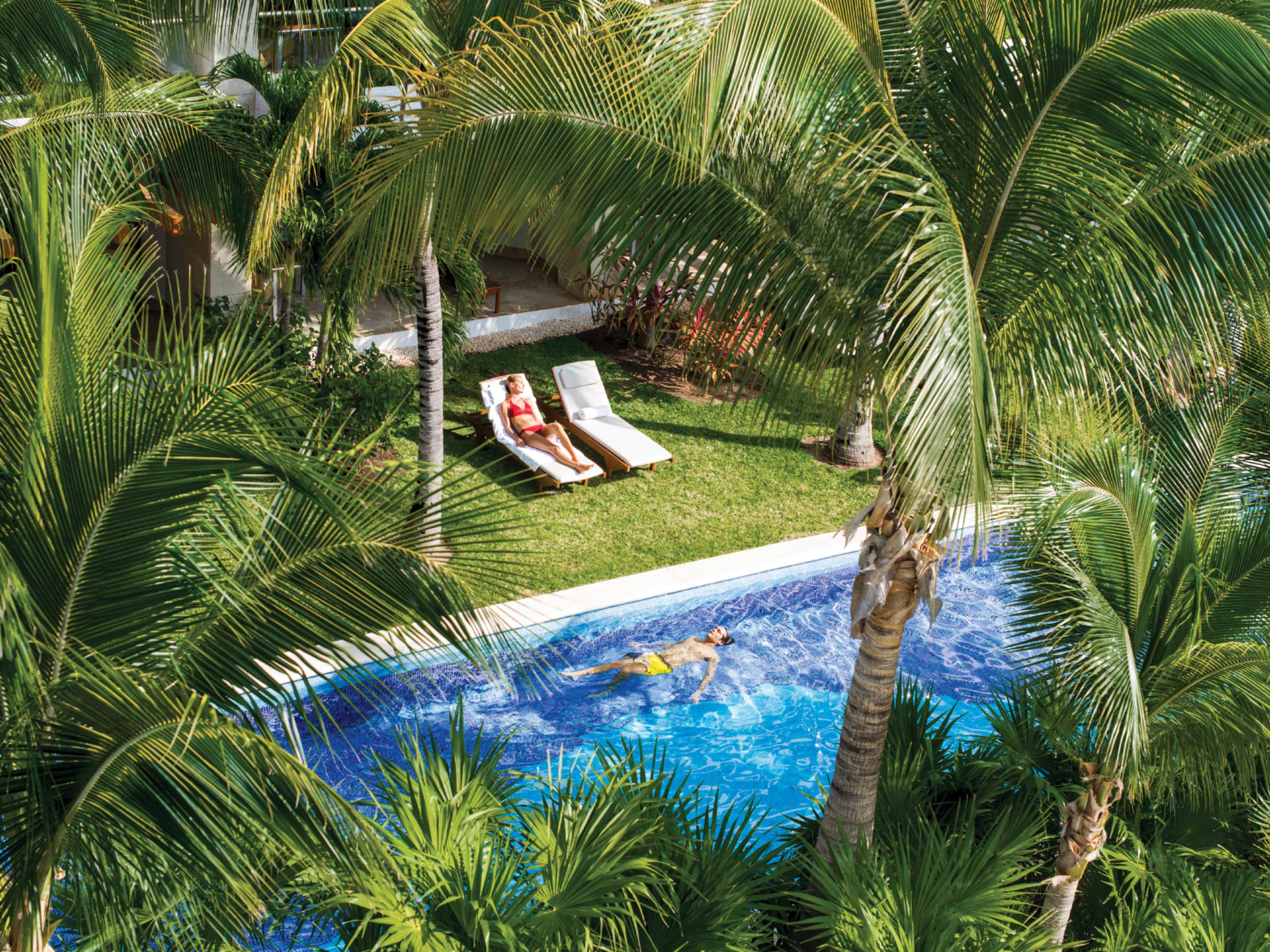 7 Things You Need to Know Before You Go to The Caribbean
Learn everything you should know before you visit the Caribbean and get ready for your tropical travels.
Read more