Privacy Policy
Basic information on privacy
Data controller: MARENA INTRACORP B.V. INC (Panama Branch)
Purpose: Management of the booking, sending commercial information, quality improvement and legal compliance.
Legitimation: Performance of the contract, consent to receive commercial information and legitimate interest in answering the requests and evaluating quality of the services.
Recipients: Companies whose services are the subject of the booking, suppliers, insurance brokerage and public bodies and authorities.
Rights: the right to access, rectify, erase and request the portability of personal data, the restriction and opposition of the processing, as well as not to be subject to individual decisions based on automated processing.
Additional information: additional detailed information about Data Protection.
This is the Privacy Policy of MARENA INTRACORP B.V. INC (hereinafter also referred to as "EXCELLENCE RESORTS" or "ER"), applies to the web site https://www.excellenceresorts.com/ (hereinafter the "Website"). By reading this Privacy Policy you are informed about the processing of personal data that EXCELLENCE RESORTS makes and collects, and the rights conferred by current legislation.
If you wish to contact with EXCELLENCE RESORTS in relation to your personal data, please send an email to the following address privacy@theexcellencecollection.com.
Who is your Data Controller?
The Data Controller is MARENA INTRACORP B.V. INC, a branch of the company MARENA INTRACORP B.V., a limited liability company incorporated under Netherlands laws and with registered office of the branch at República de Panamá, Ciudad de Panamá, Corregimiento de Juan Díaz, Urbanización Costa del Este, Avenida de la Rotonda, casa piso nº 9.
What personal data do we process and how have we obtained your data?
ER may collect and process the following categories of personal data. This may include:
Identification data and contact details: name, surname/s, email address, postal address, telephone number.
Financial and transaction information.
Personal information.
Data related to your If you intend to get more information, you can find more in our Cookies Policy in the following: https://www.excellenceresorts.com/footer/cookie-policy/
Details of preferences.
The data is directly obtained from his/her owner, or otherwise by the person which execute the reservation on his/her behalf.
In the event that you provide third-party data, you express that you have the third party's consent to provide to the data subject the information described in this Privacy Policy. You indemnify ER of all responsibility. EXCELLENCE RESORTS may carry out the pertinent procedures in order to verify this information, in accordance with the current data protection regulation.
Is it mandatory to share personal data?
You can visit most areas of the Website without revealing who you are or providing any information. However, some of our interactive services require your identification in order to enable the interactive function. The forms contain mandatory fields that must be filled out to contract services provided by ER and the processing of your request. You must take into account that, if you decide not to provide your personal data, EXCELLENCE RESORTS will be unable to process your booking and/or request.
Purposes, legal basis and conservation period of personal data.
Personal data will be treated in accordance with the following purposes, legal bases and conservation periods: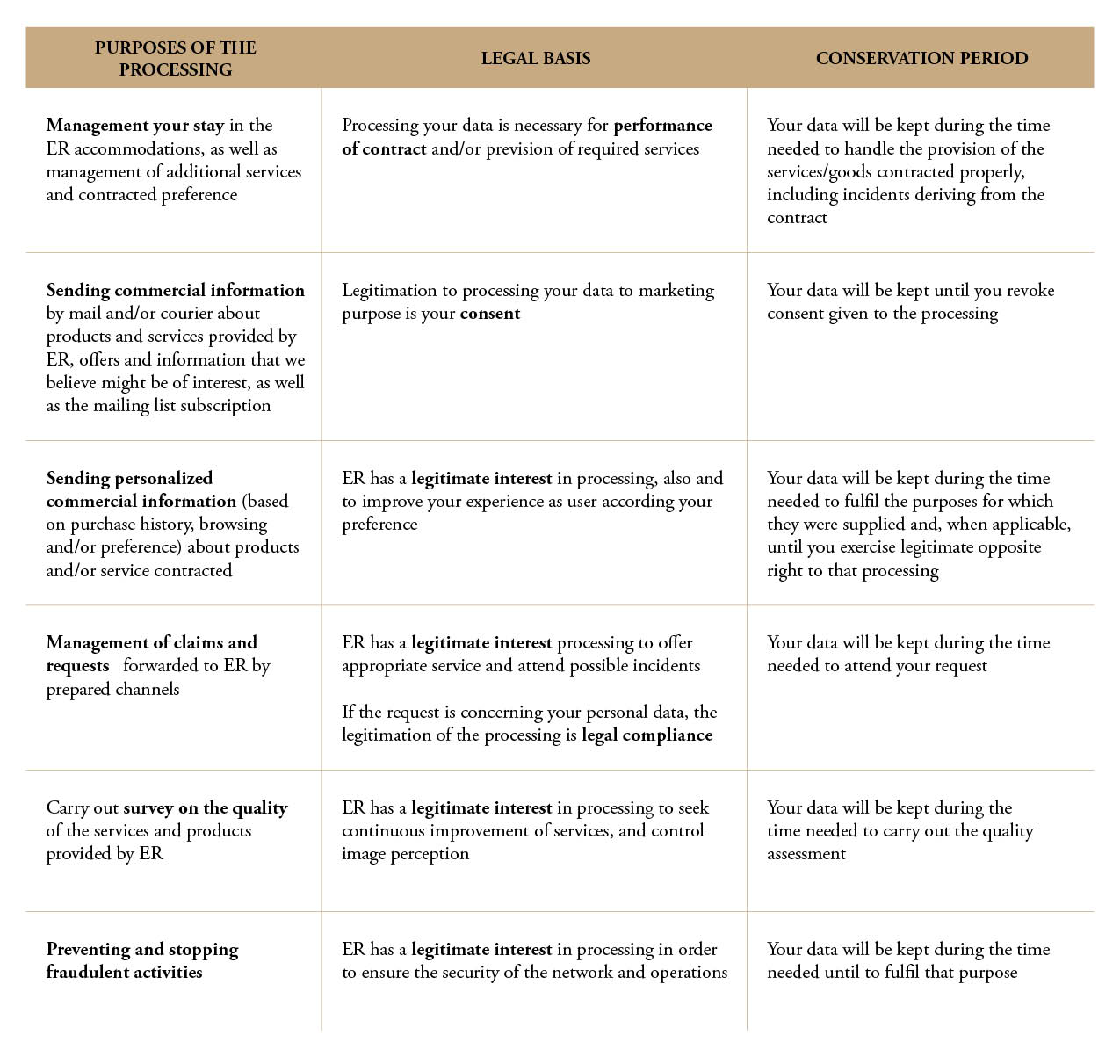 You may withdraw your consent to any of the processing and purposes mentioned. This will not affect the legality of the processing carried out. Purposes are considered independent, so you may specifically revoke your consent for one or more purposes without affecting the rest.
To revoke the consent which you previously provided, you may send an email to the following address:- privacy@theexcellencecollection.com. Also, you have the option to revoke your consent to commercial purposes, pushing the link to unsubscribe at the bottom of our emails.
Where legal provisions so provide, EXCELLENCE RESORTS will keep your personal data for the time during which liability may arise in relation to their processing. Once each of the potential actions is time-barred we will proceed deleting the personal data.
To whom do we transfer your data?
Your data may be transferred and disclosed to:
Companies with which ER has a commercial relationship and or provide support to its services.
Suppliers of ER.
Insurance brokerage and the ER insurance company.
Public bodies and authorities.
These communications (transfer and disclosure) are necessary for the management of the booking and other requests or preferences which you may have expressed, for contracted additional services, and or internal administrative purposes and/or to fulfil legal and contractual obligations.
Communications to recipients may involve international transfer of personal data. ER seeks to ensure that communications are carried out with the appropriate safeguards.
Do we sell personal data?
EXCELLENCE RESORTS does not sell and will not sell your personal data to any party.
Which are your rights and how to exercise them?
You have the right to obtain information about your personal data processed by ER, and in the evidence of confirm the process, to access them. Likewise, you can request to rectify your data when it is inaccurate or incomplete, or to erase them, when, among other reasons, thee data are no longer necessary for the purposes for which they were collected.
You can also request the restriction of processing of your data in the following cases:
During the investigation of a claim due to the inaccuracy of your data.
If the processing is unlawful and you oppose the erasure of data.
When we do not need to process your data, but you need it for the exercise or defense against possible legal claims.
If you have opposed the processing of your data on grounds of public and legitimate interest, while we are analyzing if our reasons for processing override your interests.
In certain circumstances, you can oppose the processing and you have the right of portability of your personal data, that means, you can request to have the personal data in electronic format, so that it can be handled by you ask or to be transferred to another responsible party for its processing.
You also have the right not to be discriminated in the exercise of your privacy rights.
You can exert your right of access, rectification, erasure, restriction, opposition and portability of your data, where applicable, by sending an email to :- privacy@theexcellencecollection.com. In order to process your request, you must be identified, so you must provide a copy of valid and official document that evidences your identity.
When the request is submitted by the authorized representative and not directly by the interested party, evidences of the identity of both (grantor and representative) should be attached to the application and official documentation to prove such representation.
Finally, you have the right to address a claim to the supervisory authority about data protection, in this case: Autoriteit Persoonsgegevens (https://autoriteitpersoonsgegevens.nl/nl).
Data security
At Excellence Resorts we collect, process and store your data under stringent data security policies and regulations. These security measures apply both to information stored in electronic means or paper format and guarantee the confidentiality, integrity and availability of your data. In case of any event or incident that may compromise your data, we will inform you as soon as possible.
Changes to this Policy
This Policy will be reviewed and updated regularly. For that reason, we strongly recommend you to visit our website from time to time in order to acquaint yourself with any possible changes that may affect you. In any event, we will notify you about any material changes to the policy by sending a message to the email address that you provided during the booking process or upon your arrival at the hotel establishments of EXCELLENCE RESORTS.
Date of the last update: 1st January 2021.