The Top Original Wedding Trends For Your Big Day in The Caribbean
Take a look at the top wedding trends for a stunning celebration in the Caribbean and see which of these elements you want for your big day.
There are some wedding trends in the Caribbean that will never go out of style. These are what we refer to as timeless or original classics that just work so well with the tropical ambiance and destination that there is no reason that they should ever be replaced or removed.
Knowing which original trends are truly loved by others who have had their big day in the Caribbean can help you to know what works well and what you can incorporate into your own special day. Therefore, let us go over the 9 big hits for weddings in Mexico, the Dominican Republic, and Jamaica.
White decor
Some people are surprised that people choose to have white decor when in such a vastly different environment and colorful ambiance. But truth be told, even though white decorations and dresses are quite normal for a wedding back home, they are actually better suited to the Caribbean setting.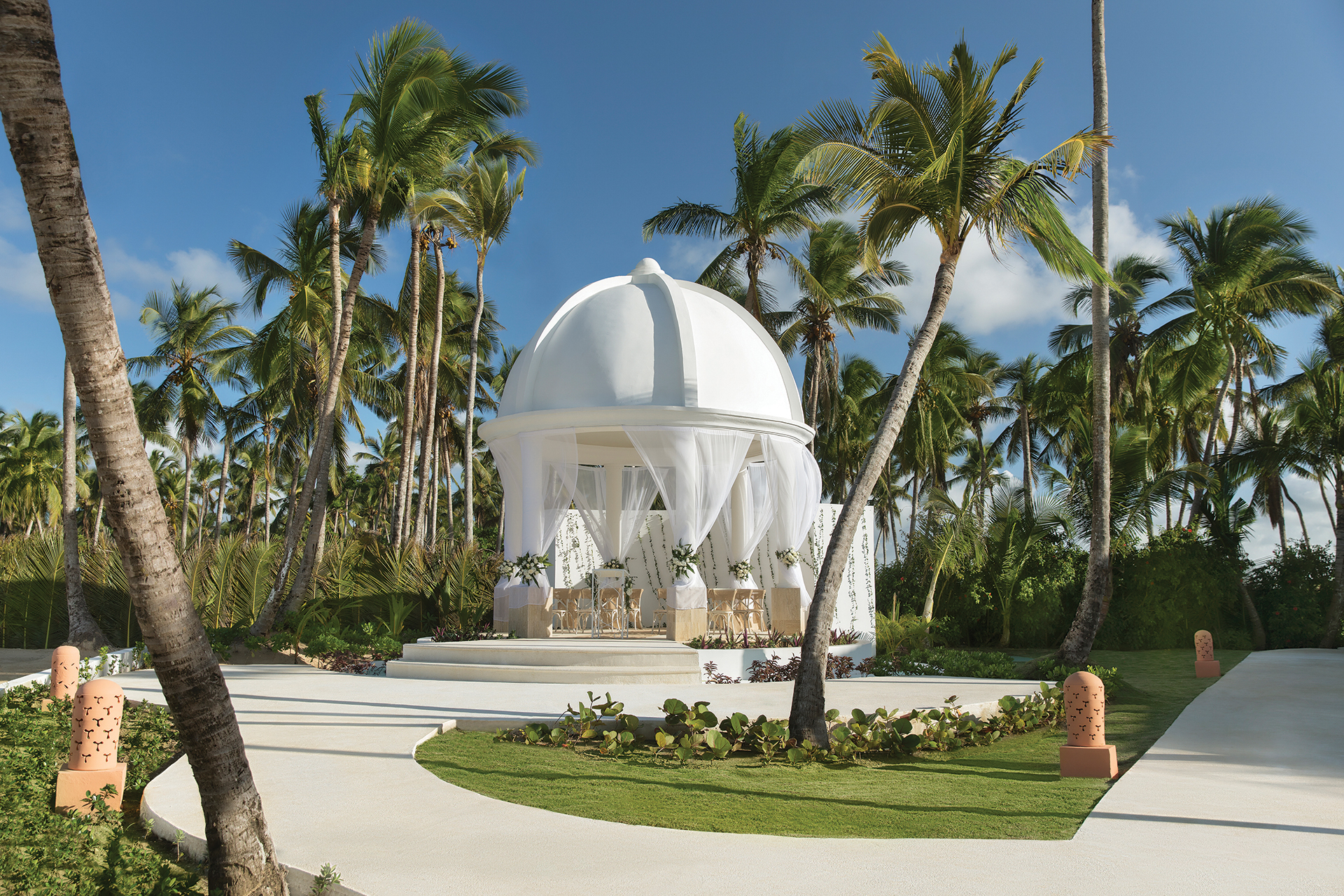 Why is that? Well, when you have pristine white inclusions, it needs to be backdropped by stronger colors to accentuate its beauty and purity. Therefore when you are in a tropical retreat and have the background of lush palm trees, green shrubbery, blue skies, and vibrant Caribbean colors, the white decor can look better than it has ever looked before.
Natural styles
Another alternative to the pure white color scheme that many choose is a much more rustic element that really works well in the Caribbean and can even be combined nicely with white elements. This is the natural look and style that many wedding planners implement into the celebration.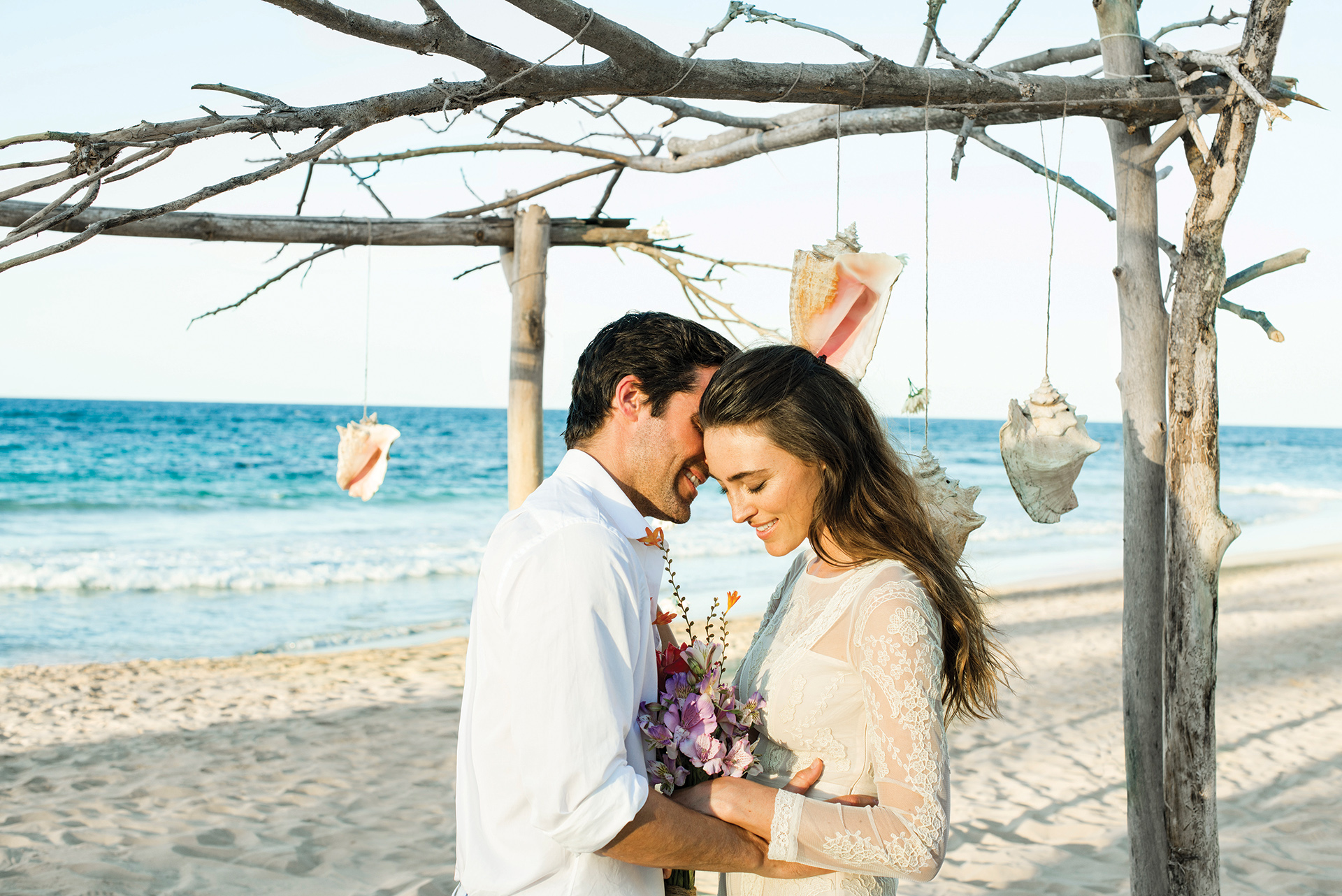 These are especially apt for beachfront celebrations or ceremonies that take place on the golden sands themselves. To keep the natural feel and the outdoor character of the wedding you do not want to add something that clashes with or changes the aesthetic. Instead, it is better to choose natural materials and decorations that complement the outdoor ambiance of your tropical venue.
Destination invitations
A big part of the wedding excitement and anticipation is encouraging others to get enthused for your big day. A great way to do this is to work hard on the invitations. However, instead of just a simple invitation to an event that most people would send when inviting someone to a local wedding, what you are doing is inviting them to a tropical destination.
This means that your invite may need to last a while depending on how far away you have booked the wedding. As such you may want to offer a seethrough invitation or something protected like a laminated card. The invite should include all the info on where you are getting married and should incorporate the vibe of your tropical elegance.
Caribbean music
You may have a special song that means something to you as a couple and by all means that should be included. However, to truly capture the essence of the Caribbean wedding experience you should make sure to add some beautiful audio to complement the occasion.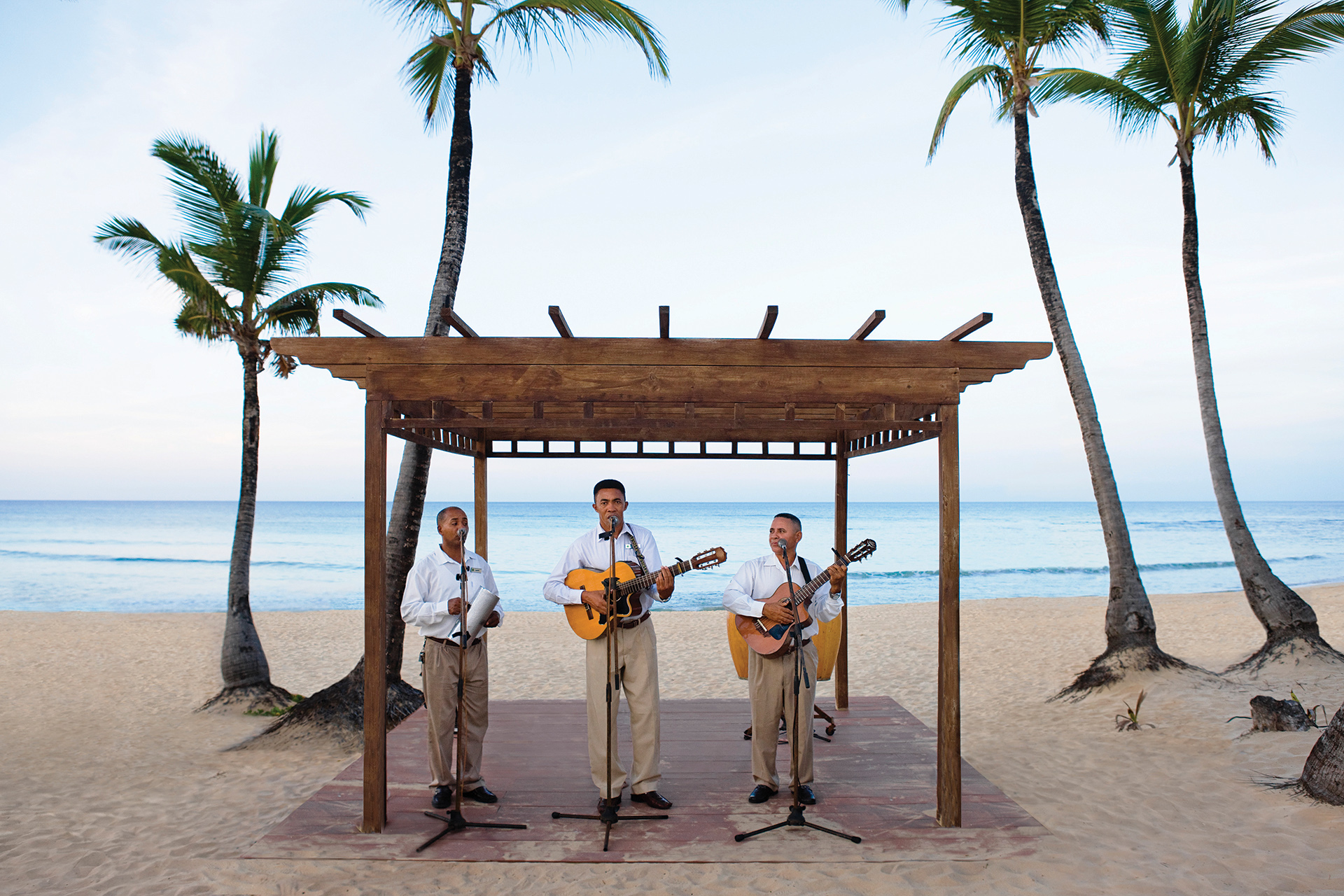 This could mean adding some reggae, some Latin merengue, or something similar depending on what kind of Caribbean mood you wish to immerse yourself and your guests into. This is yet another reminder of where you are and how incredible your wedding destination truly is.
Vibrant flowers
Where would any wedding be without a beautiful bouquet of flowers? With this addition, you can choose to incorporate elements of your white or natural theme but above all, it should reflect the beauty of the landscapes around you.
True original weddings in the Caribbean have vibrant colors and gorgeous flowers sourced from the local area. Bear in mind that this may mean, different types of flowers and foliage than what you might be used to and what you can get back home.
Nevertheless, this stunning inclusion will bring your wedding to life and enhance the beauty of everything around it.
Caribbean cocktails
From the moment your guests arrive you may wish for them to be welcomed with a gorgeous creation of mixology. This sets the tone for your day and gets everyone in the mood to start enjoying themselves. However, it need not end there.
If your wedding is in an All Inclusive resort then you do not need to worry about the bar tab. You can have your guests drinking cocktails whenever you want and can make a cocktail hour after the ceremony or have them celebrating throughout the occasion.
Either way, there is nothing that quite says "Caribbean comfort" like a refreshing cocktail on a hot day.
Exotic cuisine
In an exotic destination, you have a great chance to spice up the flavors of the cuisine and offer something truly spectacular. This does not necessarily have to be traditional food from the country in which you are staying but instead can be any array of your favorite dining options.
This is especially accessible in an All Inclusive resort that caters to a wide variety of preferences and palettes so that you can get the dream cuisine that you have always wanted.
Beach photos
Another thing that every beach wedding never misses out on, is some magnificent beachfront photos. Head down to the sand and choose your favorite spots by the water to capture some memories with your spouse and family.
These are the moments that you freeze in time and hold on to for the rest of your lives. Make them special by getting shots in the sweet sunshine or by captivating the perfect light of the golden hour as the sun goes down.
Honeymoon suite
Last but not least, a Caribbean wedding trend that will never be bypassed is having a luxurious honeymoon within the same resort where you got married. This makes the preparations so much easier, it makes a nicer close to the evening and it means that you can enjoy an outstanding suite with the person you love that overlooks the Caribbean ocean.
Make sure to have a look at the different resorts so that you can select the best option for both your big day and your romantic vacation afterward. If you like the idea of a wedding in Cancun then you might want to take a look at Excellence Riviera Cancun, for a gorgeous day in Punta Cana you can take a look at Excellence Punta Cana, and for an incredible wedding by the beach in Jamaica you can head to Excellence Oyster Bay.
---
Tags: Romantic vacations in the Caribbean, Excellence Riviera Cancun, Excellence Punta Cana, Excellence Oyster Bay
Other Articles you may like
Explore 3 Incredible Experiences in The Caribbean And Why Excellence Resorts Became Their Home Away From Home
Step into the stories of three couples in Excellence Resorts and read through each of their unique excellence experiences in the Caribbean.
Read more