What Are The 4 Best Golf Courses in Cancun?
Would you like to play golf in Cancun? Come and explore the best golf courses in Playa Mujeres and the Riviera Maya and what golf experiences await.
Whether you are an experienced golfer or just starting, you will likely want to make the most of your escape to Cancun and enjoy the best golf courses in the area. To help you with this we have put together this list of the top places to play golf in Cancun with some information about each course so that you can choose the fairway, bunkers, and green that match your golfing preferences.
We will also discuss what kind of golf experiences you can expect to enjoy in Cancun and where you can stay near each golf course so that you can fully plan out your ultimate golfing vacation.
Is Cancun good for golf?
When you think about the best destination for golf, you may think about perfect sunny weather, some incredible scenery, a lush and vibrant environment, and a host of amazing courses to try out. This is exactly what Cancun has to offer.
Known for its year round sunshine, you can be sure that your game of golf is not likely to get canceled because of the weather and instead you will be able to enjoy the comforting warmth of a tropical golf course.
With winding courses built around jungles, mangroves, beaches, and waters, you can get to experience a completely new environment for your golf game with views of the Mexican Caribbean that will simply take your breath away. The serenity and elegant beauty of golfing in Cancun is an experience that is worth planning for.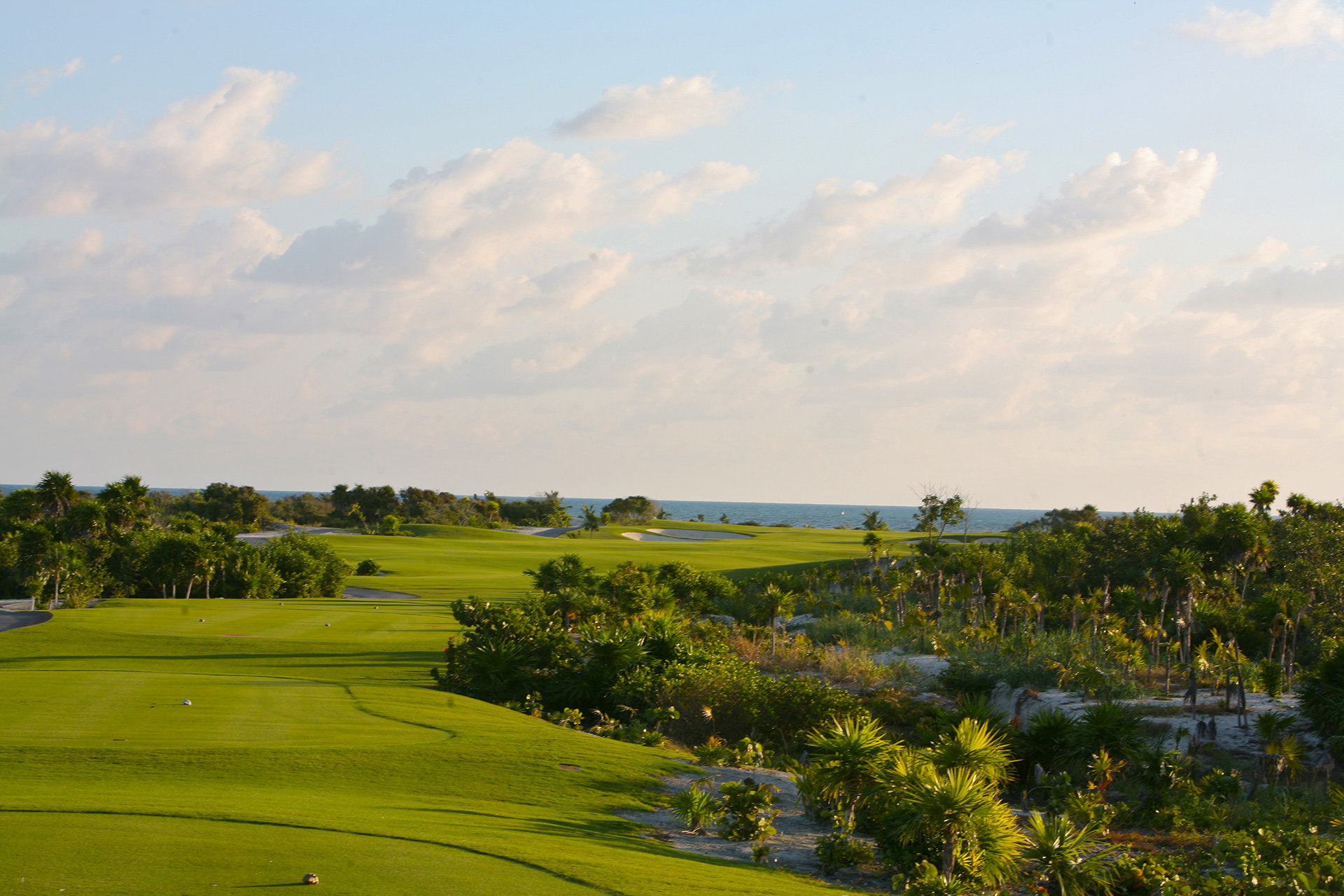 Another great thing about golf in Cancun is that not only is there an abundance of courses for you to try, making your golf game unique for each day of your vacation, but there are also many nearby resorts where you can stay to make your golf trip that extra bit more relaxing.
Let us look at the Cancun golf courses so that you can select the slope that matches your golfing level and the style that suits your ideal golf game.
Golf near Playa Mujeres
Playa Mujeres golf club
Just a few minutes away from your luxurious All Inclusive resort is a course built by one of the world's best golfers. This course has received significant recognition as one of the best golf courses in Mexico and is known for building itself into the countryside with great respect for the flora and fauna. This means that if you hope to see some tropical wildlife, this may be the course for you.
This is also one of the only golf courses in Mexico that are supported by the Executive Women´s Golf Association making it one of the top choices for female golfers.
Location: 20 minutes from the Hotel Zone but only 10 minutes north of Excellence Playa Mujeres.

Designer: Greg Norman and Tad Burnett

Built: 2006

Slope/difficulty: 132

Rating 72.5

Length: 6775 yards

Grass type: Paspalum SeaDwarf greens, tees, and fairways

Par: 72

Season: All year. High season from November to April.

Opening times: From sunrise to dusk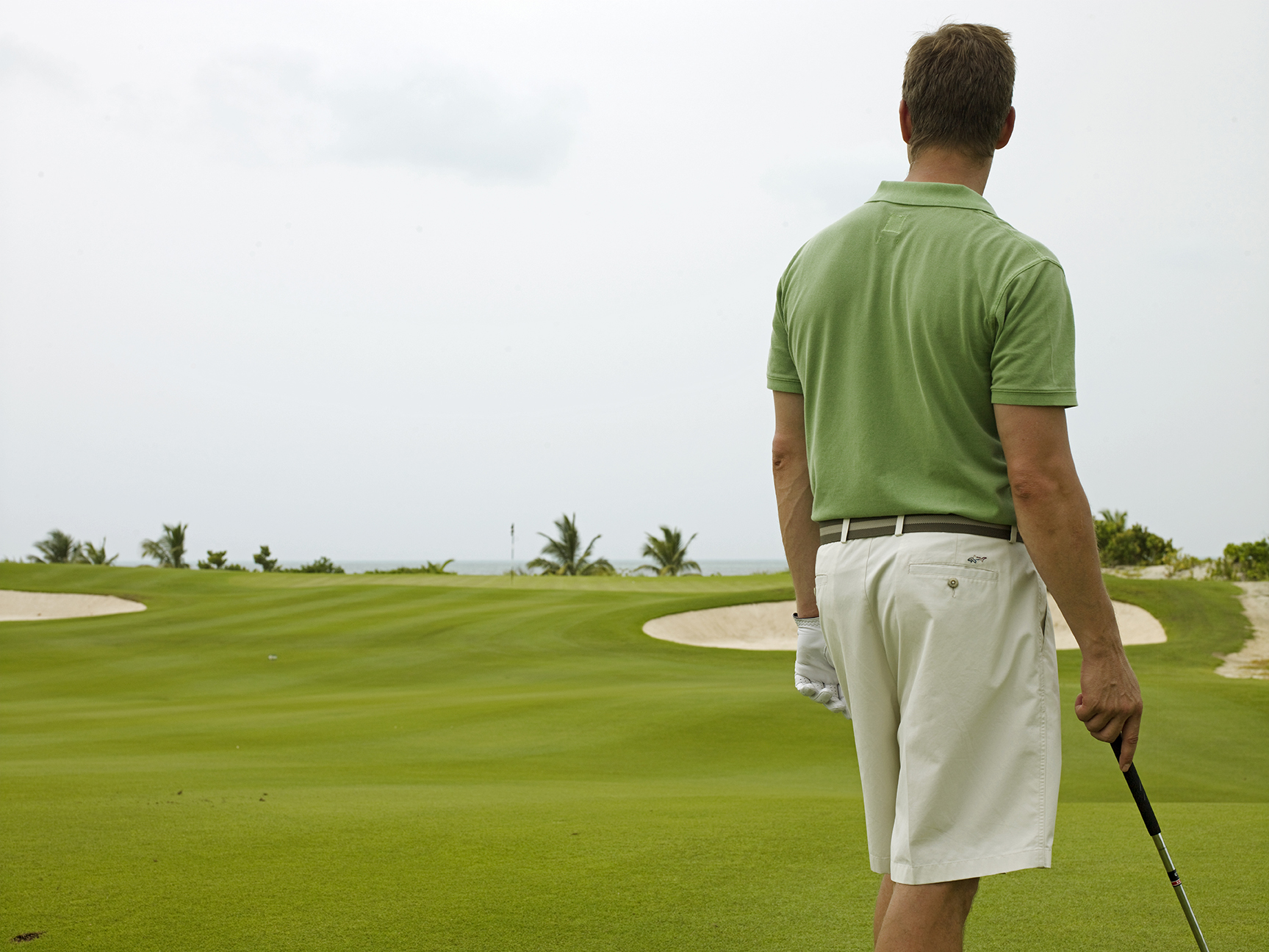 Puerto Cancun golf course
Discover a gold course situated in a 180 acre ecological reserve that has winding natural waterways and a couple of holes with beautiful views of the ocean and even the nearby town. Known to mix modern design with natural elements, this course has a quirky and unusual layout that will leave you guessing from one spot to the next.
One specific hole to look out for is number 14 which runs parallel to the beach and has some truly outstanding vistas for your Mexican golf game.
Location: Situated between the Hotel Zone and Downtown Cancun and 20 minutes south of Excellence Playa Mujeres.

Designer: Tom Weiskopf and Phil Smith

Built: 2013

Slope/difficulty: 135

Rating:

75.6

Length:

7241 yards

Par: 72

Season: All year round.

Opening times: 7 am to 4:30 pm
Where to stay in Playa Mujeres for your golf trip
For the best golfing experience, you need somewhere to be able to sit back and relax after a long day on the fairway between the tees and the putting greens. This needs to be somewhere nearby so that you can get there easily and have only a short trip back to your suite. Fulfilling these criteria is the adults only All Inclusive resort of Excellence Playa Mujeres.
Being only 10 minutes away from the Playa Mujeres golf course and 20 minutes from the Puerto Cancun golf course, it is situated right in the heart of Playa Mujeres golf. It also caters frequently to golfers looking for their next golf experience and is well acquainted with the local areas where you can enjoy your game. Why not start planning your golf trip and book your stay in Playa Mujeres?
Golf near the Riviera Maya
El Tinto golf course
As the only Tournament Players Club Facility that is not located within the unites states, this championship course previously known as TPC Cancun is well known for its friendly English speaking staff and fantastic assistance.
Though close to the coast this is more of an inland golf course that tends to be much more tranquil and quiet than some of the other golf courses. Therefore, you might not get some of the same ocean views that the other spots offer but you may get a more exclusive golf experience.
Location: 10 minutes south of Cancun international airport and 20 minutes north of Excellence Riviera Cancun.

Designer: Nick Price

Built: 2012

Slope/difficulty: 137

Rating: 75.8

Length:

7439 yards

Grass type: Platinum Paspalum Grass

Par: 72

Season: All year. High season from November to April.
El Camaleon Mayakoba golf course
For true golf aficionados, this is the ultimate course. As the home to the Mayakoba Golf Classic which was the only official PGA tour ever held outside of the United States or Canada, this legendary course takes you on a journey through terrain that changes like a chameleon from one hole to the next. Not only is it a golf course for the history books but it also has many environmental awards.
With an abundance of hazards, cenotes, lagoons, mangroves, and jungle foliage, this can be a tricky course but a very satisfying one to complete. Look out for hole 15 because your shot could land you either on the beach or right into the Caribbean ocean.
Location: 10 minutes north of Playa Del Carmen and 25 minutes south of Excellence Riviera Cancun.

Designer: Greg Norman and Tad Burnett

Built: 2006

Slope/difficulty: 139

Rating: 74.8

Length: 7024 yards

Grass type: Papalum Sealse

Par: 72

Record: 61

Season: All year round.

Opening times: 7 am to 4 pm.
Where to stay in the Riviera Maya for your golf trip
For the best golfing adventures in the Riviera Maya, you need to find a place that is carefully situated near your favorite golfing spots. Our recommendation for you is Excellence Riviera Cancun which is an All Inclusive resort for adults only.
Here you can head out to El Camaleon Maykoba which is about 25 minutes away or you can enjoy the El Tinto golf course which is less than a 20 minute drive from the resort. Then, after a fantastic game of golf, you can head back to your accommodations, relax by the pool, or take some time to unwind on the beach.
If you would like to play golf in the Riviera Maya then you might as well start checking out the suites nearby.
How to organize your golf game in Mexico
So now you know where to go for the best golf in Cancun, and you also know which resorts are near the golf courses that you would like to visit. But how do you organize your game of golf and who should you contact to make it happen?
For all your golfing needs, whether that be transportation to the golf club or course, golf club rental, green fees, or general information about each option, you should contact Seasons Tours as soon as possible so that you can plan out an amazing golfing vacation.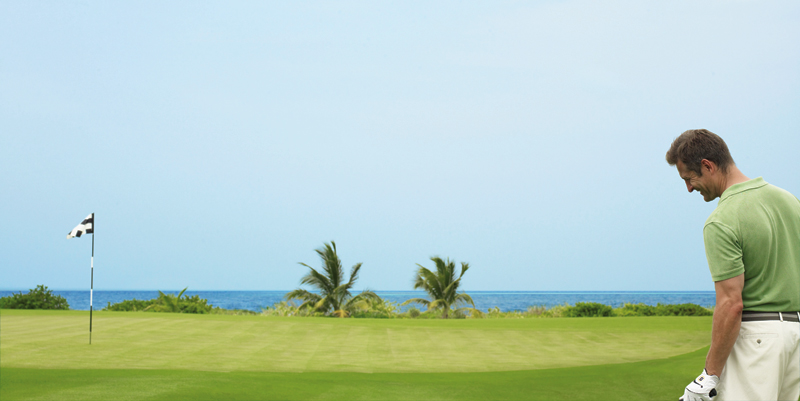 If you are already staying in Cancun and you would like to organize a game, then you can also head to your reception and ask for assistance there where you will be directed to a Seasons Tours representative.
May you have a great game of golf and play at a scratch level!
---
Tags: Excellence Playa Mujeres, Excellence Riviera Cancun, Things to do in Cancun
Other Articles you may like
Explore 3 Incredible Experiences in The Caribbean And Why Excellence Resorts Became Their Home Away From Home
Step into the stories of three couples in Excellence Resorts and read through each of their unique excellence experiences in the Caribbean.
Read more