You Can See Humpback Whales in The Dominican Republic!
Humpback Whales travel to the oceans near Punta Cana each year. Have a look at these migratory marvels and learn where you can go to see them.
One of the most beautiful natural experiences in the world is in The Dominican Republic. During the right time of year, thousands of humpback whales travel to the oceans surrounding this island to breed and take care of their young in these peaceful waters.
If you are planning a trip to Punta Cana then this may be your chance to see these incredible mammals in their natural habitat whilst you enjoy the tropical surroundings and Caribbean seas of this island paradise.
So when should you go to see these gentle giants of the deep? What makes them so incredible? And where can you stay nearby?
Let us tackle these questions together and discover the Humpback Whale experience that you can have in The Dominican Republic.
When is the best time to see Humpback Whales in Punta Cana?
Though The Dominican Republic has one of the largest Humpback whale sanctuaries in the world with all the Humpback whale populations of the Atlantic coming here, they are only here for part of the year. Their whale season in The Dominican Republic is from December to March.
To see these magnificent creatures therefore you will want to book your stay in Punta Cana during this time period. However, it should also be noted that many of the excursions only run from January to March so this would be the optimum booking window for your next tropical vacation if you want to enjoy watching the Humpback whales.
Why do Humpback Whales travel to the Dominican Republic?
Humpback whales travel all the way from the oceans of Greenland, Iceland, North America, and Canada every year to the warmer waters of The Dominican Republic. Why? Because they need the warmer waters for their young who are not born with enough insulating blubber to withstand the Atlantic temperatures of the freezing oceans.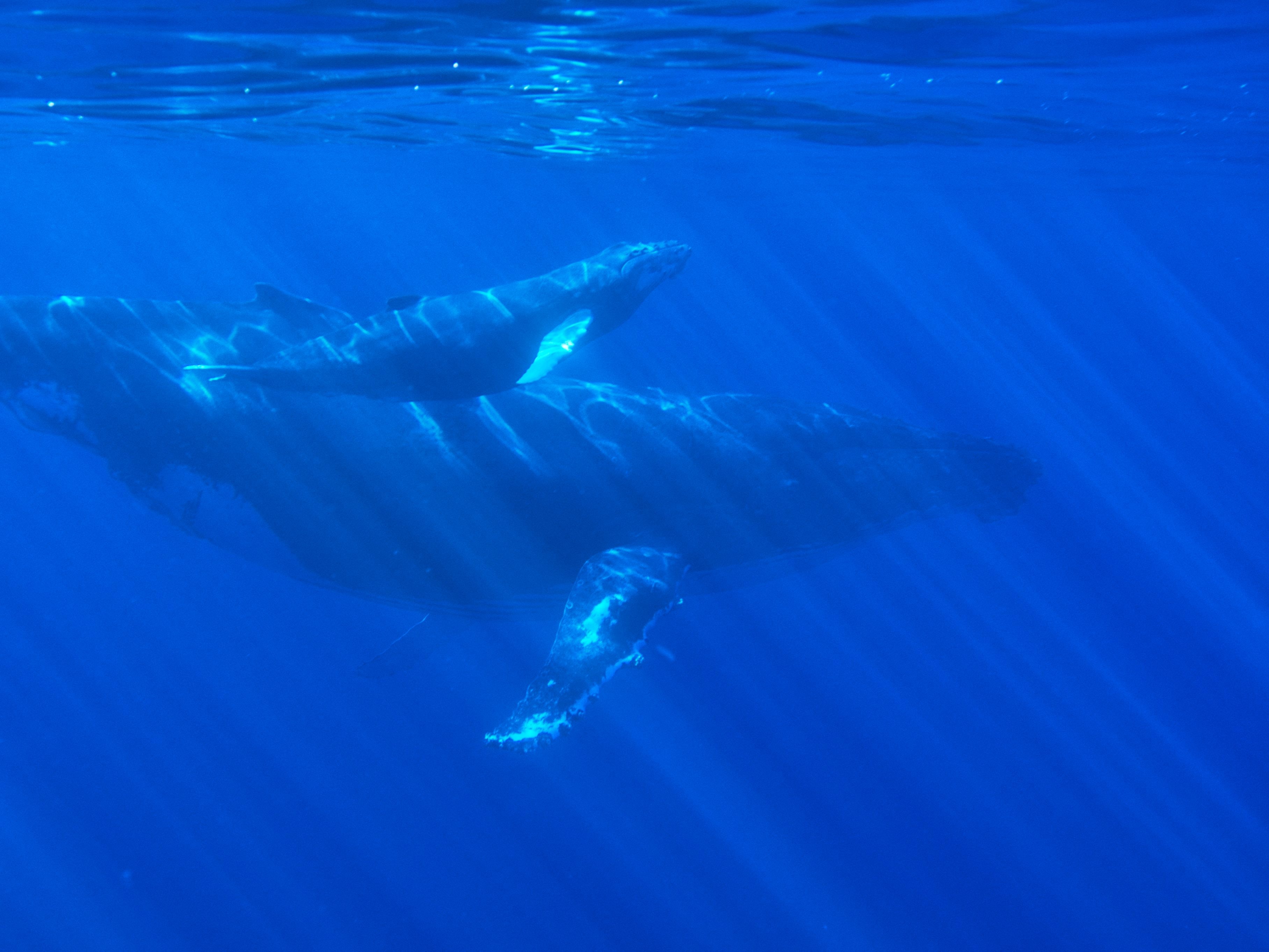 As such, they all come here to breed and take care of their calves until they are strong enough to endure the harsher oceans.
During this time period, the male whales perform impressive displays where they jump out of the water to attract the attention of the females and if that doesn't work then they try out their sensational singing voice which can only be heard underwater.
Additionally, you may also get a chance to see a mother Humpback Whale playing with her calf which is as endearing as it is beautiful.
5 things you didn't know about Humpback Whales
1. Distant travelers
Having come from many different places in the Atlantic ocean, Humpback Whales travel enormous distances to get to The Dominican Republic. During their annual migration to Samana Bay, some of them have been known to swim up to four thousand miles a day.
2. Enormous proportions
Most Humpback whales in the Dominican Republic can weigh about 40 tons and can be as long as a bus however the largest ever recorded was just under 100 tons which is approximately about 2,000 pounds. That's an extraordinarily large mammal.
3. A lot of little food
Though enormous creatures, they choose a diet of very tiny things. Their preferred diet is Krill which are tiny little crustaceans that look like shrimp. Some of these whales eat up to one and a half tons of krill a day. Considering how many whales come to The Dominican Republic, that is a lot of shrimp.
4. Songs of the deep
Humpback whales are known for their incredibly complex and harmonic ocean songs that they sing underwater. These oceanic symphonies can be heard up to 20 miles away and can last up to an hour.
5. Ocean acrobatics
Besides their mating rituals, Humpback whales are known for their leaps out of the water that ends with a giant splash. This is what researchers have termed "breaching" and is still a subject of debate as to why they do it. Some say that it is to clean their skin but others believe that they are just enjoying themselves in the water.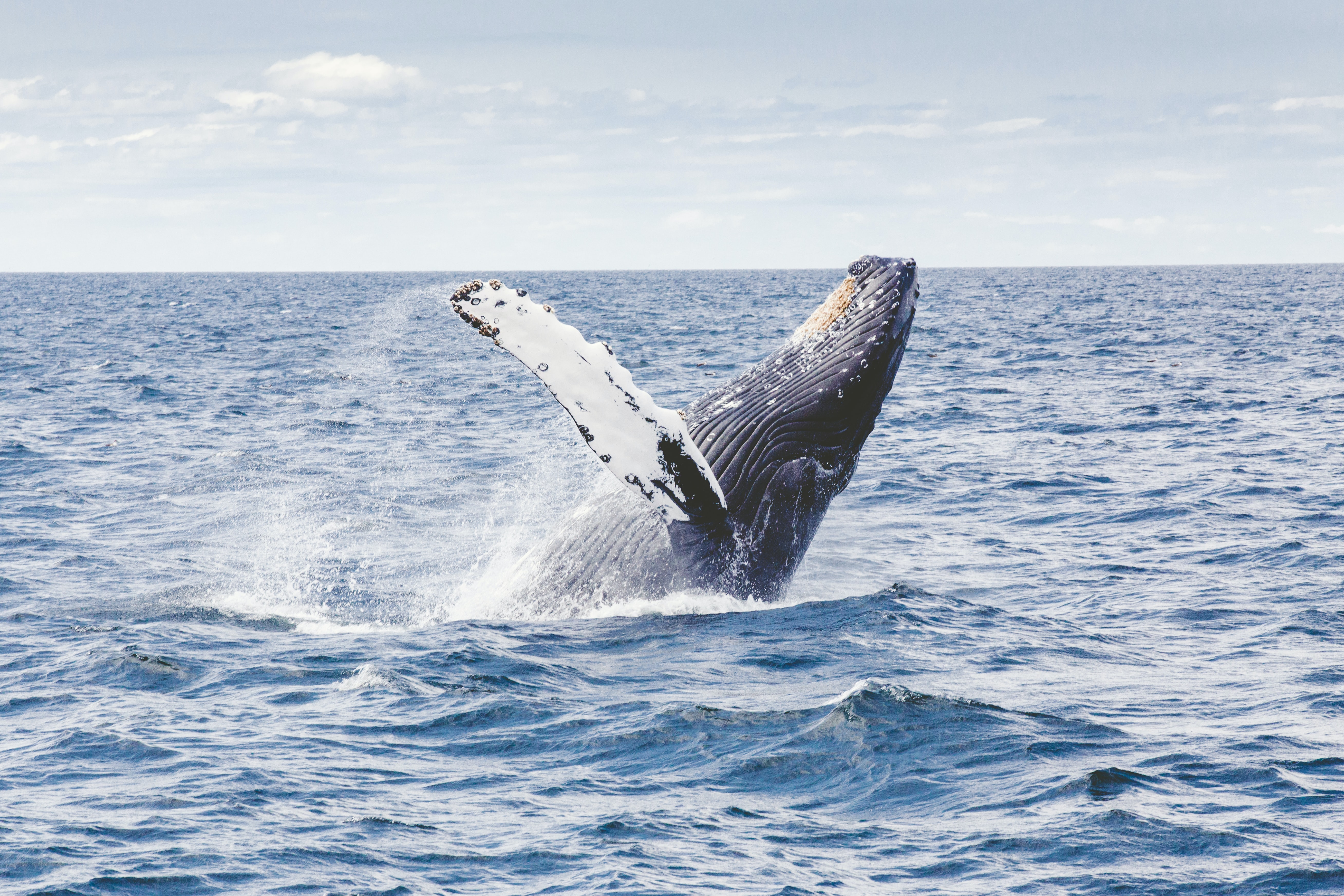 Where to go in Punta Cana to see Humpback Whales
The top spot for whale watching in the Caribbean is Samana Bay. Whilst the town of Samana on the Samana peninsula is a difficult place to get to. The good news is, however, that you do not need to go there to get to Samana Bay.
Indeed, you can stay in the comforts of Punta Cana and take a boat excursion out directly to the delightful waters of Samana Bay which is just a short journey away over the water. Therefore, if you are looking for a place to stay in Punta Cana to enjoy the wonders of Humpback whale watching on the nearby seas, you have the adults only All Inclusive resorts of Excellence Punta Cana and Excellence El Carmen where you can reserve your stay.
If you are unsure where to go to book your excursion feel free to ask your resort concierge for more information and they will be happy to walk you through the options. Remember also to book your stay between January and March for the best Humpback whale excursions and to bring a camera for this incredible experience.
---
Tags: Things to do in Punta Cana, Excellence Punta Cana, Excellence El Carmen, The natural wonders of the Caribbean
Other Articles you may like
Explore 3 Incredible Experiences in The Caribbean And Why Excellence Resorts Became Their Home Away From Home
Step into the stories of three couples in Excellence Resorts and read through each of their unique excellence experiences in the Caribbean.
Read more